BOOK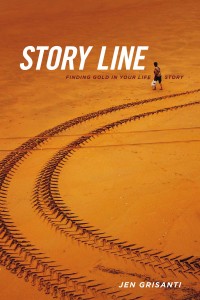 STORY LINE: FINDING GOLD IN YOUR LIFE STORY is about fictionalizing your truth in your writing. It is for anyone who has a story and wants to learn about the best platform to write their story in. It is a writing book for television and feature writers but also a business, life and spiritual book for anyone who has a desire to learn how to add fiction to their truth and bring it to the page.
This book will be out in March of 2011. It is  published by Michael Wiese Productions.
It is now available on amazon.com,  Michael Wiese Productions, Barnes & Noble (online), Borders (online) and The Writers Store (online and in the store.)
MEDIA – STORY LINE
This interview covers Story Line, Aaron Spelling and the demise of two soap operas.
BOOK REVIEWS
BOOK SIGNINGS
MARCH 3, 2011

THE WRITER'S STORE from 6:30 p.m. to 9:00 p.m. at 3510 West Magnolia Blvd., Burbank CA, 91505
There will be a panel discussion titled Finding Your Voice in Story: A Panel Discussion on Writing Unforgettable Characters for the Big and Small Screen.
Panelists include; Jen Grisanti, author of Story Line: How to Find Gold in Your Life Story, is a sought-after consultant and a former studio executive who covered Medium, Numbers, Girlfriends, The 4400, Melrose Place, Beverly Hills 90210, Charmed and many other hit series.
Screenwriter and WGA member Diane Drake's screenwriting credits include What Women Want starring Mel Gibson, and Only You, directed by Norman Jewison, with Robert Downey, Jr. and
Marisa Tomei.
Pilar Alessandra is the director of the Los Angeles writing program "On the Page, Inc.®."  She's worked as Senior Story Analyst for DreamWorks and Radar Pictures and covered additional projects at ImageMovers, Saturday Night Live Studios and The Robert Evans Company.  She's trained writers at ABC/Disney, MTV/Nickelodeon, the National Screen Institute, the Los Angeles Film School, The UCLA Writers Program and more.
MARCH 19, 2011 – SIGNING WILL FOLLOW THE SEMINAR
MY STORYWISE SEMINAR:  HOW TO TELL A STORY THAT SELLS UCLA – Saturday, March 19th 2:00 p.m. – 6:00 p.m.
In this class, we will go over the components of what makes a strong story in TV and features.  This will include log lines, drawing from your emotional well, adding fiction to your truth, finding your voice, creating powerful dilemmas and stemming them into clear goals, establishing strong emotional stakes and implementing theme and symbolism.  We will look at the top features and TV shows and break down what works and why it works.  I will be teaching from my book STORY LINE:  FINDING GOLD IN YOUR LIFE STORY.  Books will be available for sale after the seminar.
Go to my Events & Seminars page to sign up.
MARCH 24, 2011

MASSE (This is my favorite dress store in LA.  We are doing it in the garden with champagne & cupcakes.) MARCH 24, 2011 from 6:00 p..m. – 8:00 p.m. at 306 North Flores Street, Los Angeles, CA 90048-2610 (323) 653-2941
APRIL 15, 2011
THE DRAMA BOOK SHOP INC., April 15, 2011 from 5:00 p.m. – 6:30 p.m. at 250 West 40th Street New York, NY 10018
ADVANCE BLURBS ON "STORY LINE:  FINDING GOLD IN YOUR LIFE STORY"
"This book is imminently readable…like peeking into someone's diary and learning something about yourself.  Jen's passion for screenwriting, writers and stories is palpable. It's like therapy and graduate school wrapped into one delicious "how to guide."
Jackie de Crinis, Senior Program Executive, USA Network
"Jennifer Grisanti  has spent her entire professional life around writers and writing. Her new book is nothing less than an instruction manual, written from her unique perspective as a creative executive, that seeks to teach neophyte writers how to access their own experiences as fuel for their television and motion picture scripts. It aspires to be for writers, what "the Method" is for actors."
Glenn Gordon Caron, Writer/Creator
"Moonlighting" "Clean and Sober" "Picture Perfect" "Love Affair" "Medium"
"Jen Grisanti gets to the heart of what makes us want to be storytellers in the first place– to share something of ourselves and touch the spirits of others in the process.  Her book is powerful and compassionate guide to discovering and developing stories which will enable us to connect– with an audience and with each other. "
Diane Drake, Screenwriter, What Women Want, Only You
"I would recommend this book to any writer – experienced or new to the craft – who wants to learn how to deepen characters' emotions and raise dramatic stakes.  Jen has a way of getting to the heart of the matter — the emotional truth of any story — and laying it bare."
Vanessa Taylor, Television and Screenwriter
Tell Me You Love Me, Jack & Bobby, Everwood, Alias, Gideon's Crossing, Cupid
"Story Line: Finding Gold In Your Life Story is not just another "How To" on scriptwriting.  In this book, Jen Grisanti encourages an examination of one's own feelings and experiences in order to find truthful, universal moments.  And then teaches how to take these personal moments and fictionalize them into compelling, sellable stories.  An honest, soul baring approach to scriptwriting.  When you're through reading this book you will have learned as much about yourself as you have about writing scripts.  A must read for beginners and veterans alike."
Jason Filardi, Screenwriter, 17 Again, Bringing Down The House
In Story Line: Finding Gold in Your Life Story Jen Grisanti gets to the challenge of writing; we all have something to say, it's the getting our personal stories on the page, and into the world, that is the hard part.  This book helps make that difficult task easier.  Story Line is a detailed, well crafted and passionate roadmap to finding our own inner stories and then figuring out how to transform those stories into storytelling.
Michael Rauch, Showrunner, Royal Pains, Love Monkey, Beautiful People, Life Is Wild
"This book teaches you how exactly how to get to the heart of great writing — with a great story. Then it shows you not only where that story is going to come from — within — but also how to pull it out and put it on the page. Clear, concise, and not like any other book out there, it'll make you a better writer by this afternoon."
Tracy McMillan, Television Writer, Author
Chase, Mad Men, United States of Tara, Life on Mars and author of memoir, I Love You And I'm Leaving You Anyway
"Every writer knows the horror of coming face to face with a blank page, armed with nothing but the glimmer of an idea, and coffee. This is a gentle guide through the terrifying first step.  Jen Grisanti has created a clear formula for turning all our wacky notions and good intentions into workable, writeable stories.  She shares her years of experience in the business as well as tremendous heart and a good dose of common sense.  You'll read STORY LINE and think, "Why didn't I think of that?"  You didn't, but fortunately, Jen did."
Deb Cahn, TV Writer, Grey's Anatomy, The West Wing
"Jen Grisanti cuts through the showbiz lingo with a practical guide for anyone interested in creating memorable characters and stories.  Story Line: Finding Gold in Your Life Story will inspire you to dig deeper into your personal stories and teach you how to use them to create unforgettable scripts. After reading this book, you will definitely become a better writer and maybe even a better person."
Karen Horne, Entertainment Executive, NBC
"Jen Grisanti spins the hardships of life into real gold.  With her warm and honest writing style, Grisanti guides writers towards delivering authentic and engaging stories that grab the attention of studios and audiences.  Story Line: Finding Gold in your Life Story is a great resource for writers as well as people trying to make sense of their lives."
Kim Hudson, Author
The Virgin's Promise, Writing Stories of Feminine Creative, Spiritual and Sexual Awakening
"Jen shatters the myth that writers are the lucky few who have been touched by the hand of fate.  A writer can be anyone with the courage to tell their story.  This book will help you tell yours."
T.J. Brady and Rasheed Newson, Writters. Lie To Me, Army Wives

"Jennifer is one of those amazing and gifted writers you want to introduce to everyone. When you read this book, you will be inspired. In her book as in her life, Jen encourages aspiring scriptwriters to reach inside themselves and to draw from their personal story and fictionalize it into their writing. This book is a powerful guide to help you express yourself and your story through writing."
Noelle Cooke, President. The Arterie
"An instant classic that is going to rock the worlds of a lot of writers in Tinseltown and elsewhere. It has already rocked mine. I know because before I even got halfway through, I was pleading for extra copies to give to my friends.
Jen Grisanti's Story Line is loaded with gold, not just for us as writers but for our bumbling, benighted selves as human beings.  This book can take us to the next level as storytellers.  It can also change our lives.  Ms. Grisanti hits us with questions like, "What is the log line for your life?"  "What is the theme of your life?"  "What is the goal of your life?"  She guides us to mine these veins for treasure we can use in our work.  But this stuff can also be world-changing in our real lives.  Story Line opened my eyes.  Like David Mamet in Three Uses of the Knife and his other wonderful books about drama, Ms. Grisanti sees a direct link between the "arc of the protagonist" and the narrative of our own lives.  Story Line is not just for writers or artists; it's invaluable for anyone seeking insights into the story and drama of their own lives."
Steven Pressfield, Screenwriter/Author "The War of Art"
"Like many great books STORY LINE requires time, patience and reflection.  Each section and each chapter takes you deeper into the process of writing great and insightful screenplays.  And every page delivers a new life lesson or observation that makes one pause.  Jen Grisanti is walking that perilous tightrope between pure fiction and autobiography.  But this is a tightrope that must be traveled by every great writer, or every writer that wishes to create great stories.  This book is a must for any serious writer."
Mark W. Travis – Author, Director and Consultant.
Author of "The Director's Journey", "Directing Feature Films" and "The Director's Bag of Tricks."  Lecturer and tutor of film directing in film schools throughout Europe, Asia and America.
There are plenty of books that teach you to create compelling characters or outline intriguing plots.  But never before has a book focused so successfully on the most important part of writing: saying something uniquely and deeply personal.  If you can't do that, if you have nothing to say, all your wonderful characters and plotting are for naught.  Jen's book takes you to those profound, private places… the only places great writing ever truly lives.
— Chad Gervich (Writer/Producer: Wipeout, Speeders, Reality Binge, Foody Call; Author: Small Screen, Big Picture: A Writer's Guide to the TV Business)
Every writer is told, "Write what you know."  But how, exactly does one do that?  Jen's book is the first to take you step by step through the process.  By sharing her life experiences and vulnerabilities Jen inspires writers to embark on their own journey of self awareness.  This self awareness results in a reservoir of authentic emotional material; the kind a writer needs to create original characters and truly compelling stories. Stories that decision makers buy.
Carole Kirschner – Career Consultant, Speaker, Author
As writers, we are often told to write what we know.   The meaning of this is often lost on describing the world we inhabit instead of the world which inhabits us.  "Story Line: Finding Gold In Your Life Story" reminds you that you are not just telling the story, but that you are the story.
Anthony Grieco, co-author of "The Pocket Screenwriting Guide: 120 Tips To Fade Out."
It's one thing for people to advise that you "Write what you know". It's quite another to show you how to do just that. Jen Grisanti succeeds in her new book, STORY LINE Finding Gold in Your Life Story.
If you've ever mused about an incident in your own life and said, "Hmmm, that'd make a great story" – this book is for you.
Jen Grisanti brings decades of experience in the highest levels of story development in the Hollywood system and translates it into a very accessible, supportive, inspiring how-to book for writers of any genre, any medium, any level. Generously offering her own experience as examples, she shows how any of us can use our own life's incidences and emotions to enhance any story.
Chapters are arranged along the lines of essential story elements such as Setup, Dilemma, Action, and Goal. Fresh examples from recent TV series and films illustrate her points.
The insights and exercises in STORY LINE are dangerous in that they may well shatter the way you've been writing and send you in a whole new direction – which would also quite wonderful for you and for your audiences.
Pamela Jaye Smith
Author, international speaker & consultant, award-winning producer-director
MYTHWORKS founder, Alpha Babe Academy co-founder www.pamelajayesmith.com www.alphababeacademy.com
As an author, I've read many books on writing, yet when Jen Grisanti, shared her stories in Story Line; Finding Gold In Your Life Story, it did more than inspire me, it motivated me to write fiction again after two years. The exercises in her book can't help but get your creative juices flowing and your delicious stories overflowing. Enjoy this book over and over because your stories are always evolving!
-Jessica Sitomer Author of And…Action! Powerful, Proven, and Proactive Strategies to Achieve Success in the Entertainment Industry
The inescapable truth about great story and storytelling is that they are always about truth and personal journeys of healing, completion, and becoming whole for authors and characters alike. Jennifer Grisanti gives a disarmingly revealing and well-illustrated path for going to those places in our own experience and creative drives that give tangible life and moving resonance to our stories and characters on the page and on the screen. Just as importantly, she does so by showing the way to access, understand, and authentically fulfill the unfolding story of our lives. While increasing numbers in this business chase the ever moving and ever more elusive curve, Jennifer her growing army of protégés will be among those effectively leading it.
Patrick A. Horton, PhD
the story coach / wind & thunder productions